Elizabeth Smart kidnapping  as a child led to her being a proponent for abused children.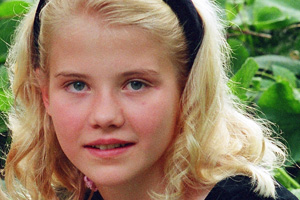 In June 2002, a few days before she was set to graduate from middle school, 14-year-old Elizabeth Smart was taken from her home in Salt Lake City, Utah, and held captive by street preacher Brian David Mitchell and his wife.
Venus in Scorpio in her 10th house brought her kidnapping and continued sexual abuse and rapes into the public eye. Mercury in Libra in the 9th house shows a strong legal mind and the ability to change laws. It also gave Elizabeth Smart a strong sense of fairness and justice and made her like a good preacher. She is highly intelligent and gave TED talks after her ordeal.
Advocate for Abused Children
Elizabeth Smart is a great advocate for abused children and her suffering became the basis for her mission. It almost looks destined in her chart unless she had voluntarily done this, an event that seems to have fulfilled the theme which led her to save others.
Visionary Tendencies
Elizabeth Smart has Moon conj Jupiter which gave her not only a tremendous amount of public response but also made her optimistic and spiritual in life. Moon-Jupiter is a mind expansion theme and gives visionary tendencies.