David Goldberg horoscope
David Goldberg was in the news on 1 May 2015 as he suddenly passed away from an injury that could have been avoided.
I believe you cannot increase your life span but you can certainly decrease it if you don't use your free choice well.
When I see such events. I want to make AstroCalendar available to everyone as I see all kinds of tragedies happening around us which could easily have been avoided.
(HJ Note we did make AstroCalendar available now for everyone so such tragedies can be avoided).
It gives me the incentive to write at odd hours in the hope of saving someone in the future.
It is almost 6 am and I am still writing this, all because when I heard the news about David and did some research on his birthdate, I saw clear indications of what went wrong and how it could have been avoided.
The Mars-Neptune Aspect
So many astrologers see a Mars-Neptune aspect as being creative, yet it is nothing short of a nightmare period full of scandals and unsolved mysteries.
One-click on the question about mental stress and obsessions in the AstroCalendar, and it gives you the most stressful dates right away.
Here is a mental stress date calculator on the main page of our other website astrotrends.net.
Just enter your birthdate and click Interp and it will instantly give you the most stressful date when your immune system is down also.
This was the aspect when Marilyn Monroe, JFK Jr, and Princess Diana passed away.
On 1 May 2015, David Goldberg, the CEO of Survey Monkey and husband of Sheryl Sandberg, the COO of Facebook. died of an accident head injury after falling back on a treadmill.
They were both going through a Mars opp Neptune transit (everyone born in the 60s is going through it now actually) when the immune system is down and small things can easily develop into a nightmare.
Here is an an-in-depth article we wrote about this aspect and is it part of our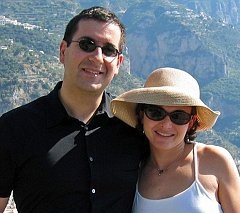 There are three things I see here: 1- Moon had just opposed Saturn which makes people feel run down and lacking of iron.
2- He had Mercury in Scorpio which makes one quite deep and very thorough but they don't know their limits, and
3- Mars-Neptune opposition which makes one quite obsessive and reduces the immune system of the body.
A Mars-Neptune adverse transit is also one of the aspects of mental stress.
Moon was in Libra so the news was about a Libra person (his Sun Sign) and opp his Saturn which makes one feel tired due to lack of iron.
Those who are born with a Saturn-Moon aspect are always anemic.
David Goldberg possibly had a lack of sugar also (Moon in Libra) that day.
I believe he felt a bit dizzy but continued pushing himself.
Having Venus in Virgo, he may have had low self-esteem (it is very easy to make them feel guilty) and was too concerned about his health.
The incident probably have been avoided if someone had got to him earlier and the Four Seasons should have placed security cameras, especially around the high-powered treadmills,to monitor the gym at all times
Saturn was also coming close to his Mars which is a major accident configuration itself and one of the signs of the heart.
His wife Sheryl is still going through it till the end of 2015 and has to pace herself.
Our condolence to Sheryl and the rest of the family who lost a wonderful person who was very unselfish and helped his company and I am sure a lot of people as well.
AstroCalendar for Your Transits
We have a unique website Astrocalendar which is personalized for you and your family.
All of these articles help you understand the transits but the timing and duration (how long does it last) are in Astrocalendar.
The calculations are already there and all you need to do is check out the interpretation.
While you learn the practical application of the best astrology rules, you will get to learn astrology as well!
Subscribe to Astrocalendar to find out when this transit happens in your own life along with many other short-term and long-term transits.

Your In-depth Personal Profile Report discusses all your strengths, innate potential, limitations, temperament, and attitude toward love, finance, and other important areas of your life.
Get the In-Depth Personal Analysis Report NOW.
It uses The Sacred Language of Astrology but in plain English!
To make the best decisions about the most important events in your life concerning your finances, health, travel, relationships, and even accident-prone days:
Get Your 12-Month Forecast NOW.
AstroCalendar is your Personalized website and shows your Moon Transits and their meanings on a daily basis plus all the planets and what they mean in your life.
AstroCalendar is a 12-month subscription and you can also include your children or other people.
AstroCalendar will help you unlock Nature's most closely guarded secrets…Your Inner Timing!