Your horoscope belongs to the soul can easily be proven using genetic astrology.
In fact, there is no other science or study which can prove this except astrology.
Prediction of Prince George's Time of Birth
When Prince George was born, I had predicted that he will be born in a Cancer-Capricorn full Moon as both parents were born in a New Moon and Full Moon with the same Cancer Capricorn axis.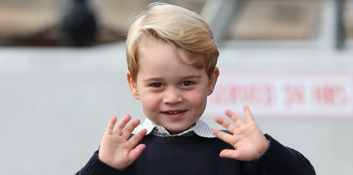 Based on this, I had said that if Prince George was born after 4:30 pm on July 22, 2013, then I will have to give up on astrology for some time as it won't make any sense at all.
At 7:30 pm, Prince William announced that Prince George was born at 4:24 PM i.e. 6 min before the time I had given for Moon moving into Leo-Aquarius instead of Cancer-Capricorn!
I am writing this not to brag about my accurate prediction but to make you aware that genetic astrology is the only way to prove that every new baby's chart is linked to all previous generations and will continue to be linked to all future generations.
Elvis Presley's Chart Showed Danger to Grandson
Elvis Presley was born in Jan 1935 and passed away in Aug 1977.
Benjamin Keough Presley was the son of Lisa Marie Presley and the grandson of Elvis Presley.
On 12th July 2020, Mars was transiting Elvis Presley's 5th house (children and grandchildren).
Transiting Mars indicates strife and danger from guns in their lives.
Moon also touched off Elvis's 5th house and his grandson shot himself!
Here is an event that accurately shows up in the chart of Elvis Presley in July 2020 even though he passed away 43 years before!
We are looking at an event that is linked to Elvis Presley's birth chart of Jan 1935 (85 years before the tragic event!).
So when a person is born, their natal chart keeps reflecting events that will keep happening for generations in their life.
Similarly, all the past events in that family will reflect in the natal chart.
The soul never dies and the horoscope belongs to the soul.
The horoscope chart continues whether the person is alive or not!
In other words, the horoscope belongs to the soul and never dies…

AstroCalendar is your Personalized website and shows your Moon Transits and their meanings on a daily basis plus all the planets and what they mean in your life. AstroCalendar is a 12-month subscription and you can also include your children or other people. AstroCalendar will help you unlock Nature's most closely guarded secrets…Your Inner Timing!
Your In-depth Personal Profile Report discusses all your strengths, innate potential, limitations, temperament, and attitude towards love, finance, and other important areas of your life. Get theIn-Depth Personal Analysis Report.
It uses The Sacred Language of Astrology but in plain English!
To make the best decisions about the most important events in your life concerning your finances, health, travel, relationships, and even accident-prone days: Get Your 12 Month Forecast NOW.